Introducing the New Title System
Skill Guide
ghjk
Elevate your game with these Titles!
Acquiring title enhances your characters capability. Equipping an acquired title grants player enhanced movement speed, increased accuracy and others. It allows player to customized their character versatility, or specialize according to their ability.

Unlock Powerful Weapons
One of the unique features of the Title System, aside from enhancing the character's ability; Upon achieving the "Master Title" for each weapon, you will receive a special Beret which shortens reloading time of your weapon equipped.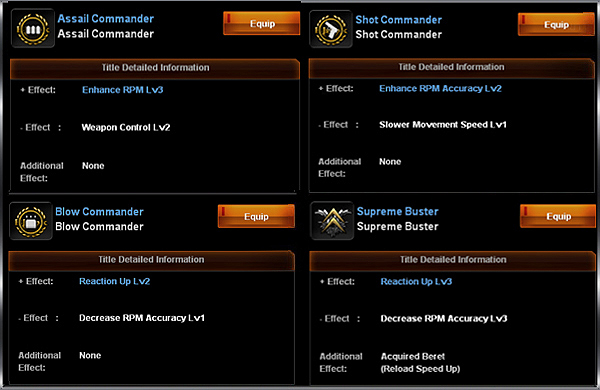 It also unlocks new powerful Durability weapons in the shop which are purchasable by In Game currency / Points
| Title Requirment | Purchasable | Point Price | Repair Price |
| --- | --- | --- | --- |
| Super Assault Officer | AK Sopmod | 54,000 | 216 |
| Super Sniper Officer | Winchester M70 | 48,000 | 192 |
| Super Assail Officer | OA-93 | 69,000 | 276 |
| Blow Commander | M1887 | 54,000 | 216 |
| Sniper Commander | L115A1 | 54,000 | 216 |
| Shot Commander | Glock18 | 27,000 | 108 |
| Assault Commander | AUG A3 | 78,000 | 312 |
| Assail Commander | Kriss SV | 69,000 | 276 |
| Super Explosion Officer | K-413 Dual | 24,000 | 96 |
Title Crafting
After completing a mission card, players will get mission rewards that they can use to obtain a title. Players can equip up to 3 different titles. You can unlock more titles by meeting other requirements such as ranking up or acquiring another title.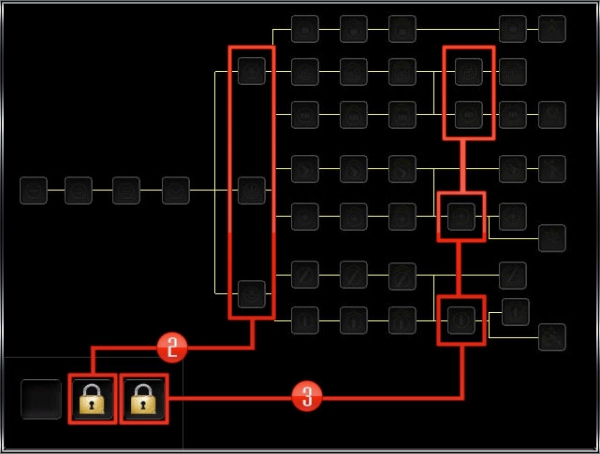 Players need to unlock Title and Rank requirements before they can acquire the next Title level.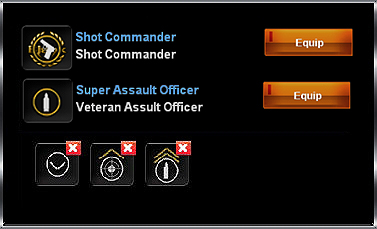 Players can equip Title by pressing double click on the Title that you want to or choose a Title and press Equip. The Title selected will be equipped into the character. Players can remove the title by pressing the X button on the image or press Cancel Title.
Obtaining Title
To obtain the Title, Players must meet the conditions which are divided into three

1.) Mission Cards (Purchase required)
- Players must complete the mission indicated on the mission card to receive Mission Rewards. Each Mission Cards give different Mission Rewards. The ribbons, medals, and badge can be obtained from purchasing mission cards. Players must finish every mission to obtain Mission Rewards.
*Note: Players may repurchase mission card once they have finished the mission card
2.) Title
- The titles are divided into categories and levels. Some title requires prerequisites to obtain.
3.) Rank
- Some title requires specific Rank before players can unlock it.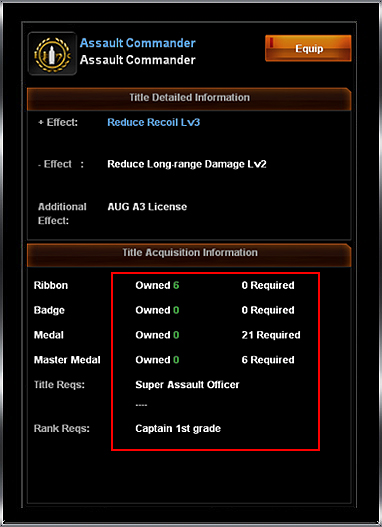 The red box on the left shows the number of medals owned. The right side shows the number of medals required, including the title and rank requirements. When completed, you can equip the acquired Title.
Skill Tree
Title
+ Effect
- Effect
Bonus
Required Ribbon
Required Title
Required Rank
Private trooper
-Jump Height Up Lv 1
-
-
Ribbon 1ea
-
Senior Trainee
Senior
-Moving Agility
Lv 1
-
-
Ribbon 2ea
Private trooper
Private
Super Trooper
-Jump Height
Up Lv 2
-Fall Tolerance
Up Lv 1
-
-
Ribbon 3ea
Senior
Corporal
Specialist trooper
-Moving Agility
Lv 2
-Fall Tolerance
Up Lv 1
-
-
Ribbon 4ea
Super Trooper
Sergeant
Assault Soldier
-Weapon Control
Up Lv 1
-Piercing Rate
Down Lv1
2 Slots for Title
Badge 2ea
Master Medal 1ea
Specialist trooper
Staff Sergeant Grade 1
Sniper Soldier
-Piercing Rate
Up Lv 1
-RPM down Lv1
2 Slots for Title
Badge 2ea
Master Medal 2ea
Specialist trooper
Staff Sergeant Grade 1
Assail Soldier
-RPM Up Lv 1
-Weapon Control Down Lv2
2 Slots for Title
Badge 2ea
Master Medal 1ea
Specialist trooper
Staff Sergeant Grade 1
Assaulter private
-Weapon Control
Up Lv 1
-
-
Badge3ea
Master Medal 1ea
Assault Soldier
Sergeant
1st Class Grade1
Infiltrator private
-Mobility Up Lv 1
-Reaction Down Lv1
-
Badge 9ea
Medal 1ea
Assault Soldier
Sergeant
1st Class Grade1
Sniper private
-Piercing Rate
Up Lv 1
-
-
Badge 9ea
Master Medal 4ea
Sniper Soldier
Sergeant
1st Class Grade1
Gunner private
-Accuracy
Up Lv 1
-Mobility Down Lv1
-
Badge 9ea
Medal 1ea
Sniper Soldier
Sergeant
1st Class Grade1
Assail private
-RPM Up Lv 1
-
-
Badge 6ea
Master Medal 1ea
Assail Soldier
Sergeant
1st Class Grade1
Explosion private
-Throw Distance
Up Lv 1
-
-
Medal 6ea
Master Medal 1ea
Assail Soldier
Sergeant
1st Class Grade1
Blower private
-Reaction Up Lv 1
-Accuracy Down Lv1
-
Medal 6ea
Master Medal 1ea
Assail Soldier
Sergeant
1st Class Grade1
Senior Assaulter
Weapon Control
Up Lv 2
-Piercing Rate
Down Lv2
-
Medal 6ea
Master Medal 2ea
Assaulter private
Major Sergeant Grade1
Top Infiltrator
-Mobility Up Lv 1
-
-
Medal 6ea
Master Medal 2ea
Infiltrator private
Major Sergeant Grade1
Senior Sniper
-Piercing Rate
Up Lv 2
-RPM down Lv2
-
Badge 8ea
Master Medal 2ea
Sniper private
Major Sergeant Grade1
Top Gunner
-Accuracy UpLv 1
-
-
Medal 6ea
Master Medal 2ea
Gunner private
Major Sergeant Grade1
Senior Assailant
-RPM Up Lv 2
-Weapon Control Down Lv2
-
Medal 20ea
Master Medal 4ea
Assail private
Major Sergeant Grade1
Senior Blaster
-Demolition Speed Up Lv 1
-
-
Medal 7ea
Master Medal 1ea
Explosion private
Major Sergeant Grade1
Top Blower
-Reaction Up Lv 1
-
-
Medal 8ea
Master Medal 2ea
Blower private
Major Sergeant Grade1
Top Assaulter
-Weapon Control
Up Lv 2
-Piercing Rate
Down Lv1
-
Medal 14ea
Master Medal 4ea
Senior Assaulter
Second Lieutenant Grade 1
Super Infiltrator Officer
-Mobility Up Lv 2
-Reaction Down Lv2
-
Medal 14ea
Master Medal 3ea
Top Infiltrator
Second Lieutenant Grade 1
Top Sniper
-Piercing Rate
Up Lv 2
-RPM down Lv1
-
Medal 14ea
Master Medal 4ea
Senior Sniper
Second Lieutenant Grade 1
Super Gunner Officer
-Accuracy Up Lv 2
-Mobility Down Lv2
-
Medal 14ea
Master Medal 3ea
Top Gunner
Second Lieutenant Grade 1
Top Assail
-RPM Up Lv 2
-Weapon Control Down Lv1
-
Medal 20ea
Master Medal 4ea
Senior Assailant
Second Lieutenant Grade 1
Top Explosion
-Demolition
Range Up Lv 1
-
-
Badge 10ea
Master Medal 3ea
Senior Blaster
Second Lieutenant Grade 1
Super Blower Officer
-Reaction Up Lv 2
-Accuracy Down Lv2
-
Badge 10ea
Master Medal 5ea
Top Blower
Second Lieutenant Grade 1
Super Assault Officer
-Weapon Control
Up Lv 3
-Piercing Rate
Down Lv3
3 Slots for Title
Medal 13ea
Master Medal 3ea
Top Assaulter
Super
Infiltrator Officer
First Lieutenant Grade1
Super Sniper Officer
-Piercing Rate Up Lv 3
-RPM down Lv3
3 Slots for Title
Medal 13ea
Master Medal 3ea
Top Sniper
Super
Gunner Officer
First Lieutenant Grade1
Super Assail Officer
-RPM Up Lv 3
-Weapon Control Down Lv3
3 Slots for Title
Badge 13ea
Master Medal 6ea
Top Assail

Top Explosion
First Lieutenant Grade1
Super Explosion Officer
-Throw DIstance
Up Lv 1
-Demolition Range Up Lv 1
-
3 Slots for Title
Badge 13ea
Master Medal 5ea
Top Explosion
First Lieutenant Grade1
Assault Commander
-Weapon Control
Up Lv 3
-Piercing Rate Down Lv2
Medal 21ea
Master Medal 6ea
Super Assault Officer
Captain Grade1
Sniper Commander
-Piercing Rate Up Lv 3
-RPM down Lv2
-
Medal 21ea
Master Medal 6ea
Super Sniper Officer
Captain Grade1
Shot Commander
-Accuracy Up Lv 2
-Mobility Down Lv1
-
Medal 12ea
Master Medal 4ea
Super Gunner Officer
Captain Grade1
Assail Commander
-RPM Up Lv 3
-Weapon Control Down Lv2
-
Medal 28ea
Master Medal 6ea
Super Assail Officer
Captain Grade1
Blow Commander
-Reaction Up Lv 2
-Accuracy Down Lv1
-
Badge 13ea
Master Medal 5ea
Super Blower Officer
Captain Grade1
Infiltrator Commander
-Mobility Up Lv 2
-
-
Medal 12ea
Master Medal 6ea
Super Infiltrator Officer
Major Grade 1
Rowdy Beast
-Weapon Control
Up Lv 4
-Piercing Rate Down Lv4
1 Beret
Medal 26ea
Master Medal 7ea
Super Assault Officer
Major Grade 1
Still Assassin
-Piercing Rate Up Lv 4
-RPM down Lv4
1 Beret
Medal 26ea
Master Medal 3ea
Sniper Commander
Major Grade 1
Shooting Star
-Accuracy Up Lv 3
-Mobility Down Lv3
1 Beret
Medal 14ea
Master Medal 6ea
Shot Commander
Major Grade 1
Nimble Sneaker
-RPM Up Lv 4
-Weapon Control Down Lv4
1 Beret
Medal 28ea
Master Medal 7ea
Assail Commander
Major Grade 1
Explosion Commander
-Demolition
Speed Up Lv 1
-Demolition
Range Up Lv 1
-
Medal 15ea
Master Medal 6ea
Super Explosion Officer
Major Grade 1
Supreme Buster
-Reaction Up Lv 3
-Accuracy Down Lv3
1 Beret
Medal 15ea
Master Medal 6ea
Blow Commander
Major Grade 1